Podcast: Play in new window | Download
This week I sit down and chat with Natalia Real of Website SuperHero and we talk all about responsive websites and why you need one.
We get into what responsive design is, the difference between a mobile site and which one is better for most businesses.
Key Takeaways:
What is the difference between a responsive and mobile website.
Why you need a responsive website.
How to create a responsive website.
Give people a reason to sign up for your mailing list: no one wants to sign up for just 'tips'.
Resource:
How to boost your marketing with a responsive website
About Natalia Real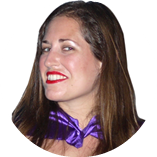 Website Superhero, a.k.a. Natalia Real, helps world-changing women entrepreneurs reach more people and make more moolah by designing + developing gorgeous websites for them that turn visitors into customers. Nat's addicted to dark chocolate, sunshine, and cuddling with her pup. Click here to get more strategies on how to make your website sell.