Overwhelmed::
By all the options for marketing your business online? From email to social to podcasting your head is spinning.
Frustrated::
With all the social media platforms and what the heck they all do. You aren't sure if you should Tweet, Pin or throw in the towel already.
Intimidated::
By all this online geek speak and you don't know SEO from a Plug-in?
I'm Sandy Sidhu and nothing lights me up more than helping small business owners – from coaches to yoga studio owners to creatives – master online marketing, systems and technology.
Did reading that make you a bit twitchy because you can't even imagine that anyone could adore the same stuff that makes you queasy?
It's okay, if it did, we're going to get along famously. I'll be the geek girl to your business bombshell and we'll have some fun in the process.
My mission is to help you get back to running your business and stop sweating this Internet thing.  My superpower is being able to break down technology into simple concepts, teach the need-to-know of marketing and the web, all while helping you create community and connection with your customers.
Bringing Your Vision to Life
A lack of technology or marketing knowledge holds many businesses back from doing big things.
Quite frankly, this makes me nuts, because it doesn't have to be so @#$@# hard.
I want to let you in on a secret.  Marketing, systems, technology are all a means to an end. They are tools for you to get where you want to go.  Don't let them hold you back from building a business that grows and thrives.
From launching your dream product to growing your local business beyond your wildest dreams, you just need a plan. You need systems to make it happen on an ongoing basis and make the most of your valuable time.  You need a pro helping you pinpoint what you actually need and getting rid of the fluff.
Working together 1:1, we can:
Create a complete marketing plan to generate buzz and bring in more money.
Map out product launch plans that are impossible for your customers to resist.
Design strategies and systems for everything from social media to email marketing.
In short, we get everything locked and loaded so you can be successful using the power of the web.
My Story (The Short Version)
How did a "normal" girl from Montreal all end up wanting to help business owners dominate on the web? (I'm a talker, so be glad we're going with the short version.)
I grew up the middle child in a bustling household, and I quickly learned how to be able to both lead and follow, which has shaped my approach to life. I can carefully listen and fall back but when something needs to be done, watch out, I'm unstoppable.
When it was time decide what to study in university, I chose software engineering. I love the puzzle of figuring out how things work and creating something from nothing. From there, worked in many roles from software developer to product manager in large telecommunications firms and startups.
After 10 years playing the corporate game, I realized that I wanted more. In 2011, I opened myself up to a world of possibilities and my business as an online marketing/tech consultant was born.  I've combined my love for all things tech and web (hello, playing with blogs since 2002) with content creation and teaching to build a successful business working with clients around the world.
When I'm not breaking down the mysteries of the web or keeping up with the latest Facebook changes, I spend my time hanging out with my husband, family and friends. I enjoy a good business book, sushi and visiting anywhere that flip flops are mandatory.
Are you ready to unlock the web and tame it for good?

 Sign up for the weekly ignite and get my free ebook "How To Create, Promote and Profit With Webinars" Click Here to Subscribe

The Short::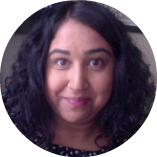 Sandy Sidhu is digital strategist and idea igniter who helps entrepreneurs and small business owners from coaches to creatives master online marketing, systems and technology. With 10 years experience in the technology sector as a team leader and software engineer, her strength is translating the technical into the achievable so business owners can meet their goals using the Web and social media. She has been featured on CNN, Female Entrepreneur Association and other leading websites and a frequent speaker on social media and technology.